Reading Time:
3
minutes
The question 'Are you ready for ERP?' has already been answered by the world's leading manufacturers. Now with ERP technology at the core of so many businesses, it is more pertinent to ask 'Where and how can your ERP solution be improved to meet your current and anticipated needs?'
This line of enquiry isn't just concerned with your company's existing ERP and the latest software that vendors can now provide. It also implies a review of your business processes – and that might potentially mean processes all the way through the supply chain.
Focusing for now on a production scenario, for a company embracing 4IR and Smart Factory models, the question 'Is there an effective robotic solution for our packing lines?' should be considered alongside "how best can we integrate automation control in an ERP system?"
When different technological solutions to similar problems exist, decision-making is easier when a structured assessment system is used. I previously touched on Technology Readiness Levels (TRLs) and how they play a part in assessing these issues methodically, within a useful framework.
Originally conceived by NASA for the aerospace industry, TRLs have an assigned number, from 1 to 9, to indicate how far a technology has progressed, from theoretical to fully implementable. The idea, though, is now much more widely used across manufacturing industry as a method of ranking alternative technologies through research, analysis and benchmarking.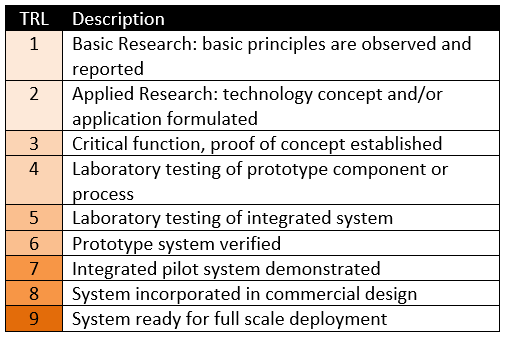 Although these TRLs may seem pretty specific, it is the basic principle of measuring readiness that is crucial here and it is open to adaptation. For example, a manufacturing readiness level (MRL) model has been in use for products and processes for over 10 years, particularly in the automotive industry. There is no reason why ERP technology cannot be assessed in the same way, using a TRL ladder, either in developing a bespoke ERP system, or comparing the applicability of different ERP solutions.
It must be said, however, that this depth of TRL analysis takes significant time and resources. Applying a TRL approach to enterprise architecture is best reserved for the operations at the beating heart of your business – the ones that, due to their specificity, really differentiate your business from your competitors. A misguided decision here could be damaging to the extent that the performance of the whole organisation is undermined.
When it comes to ERP readiness, vendors of solutions such as SYSPRO are willing to share their experience and provide advice and assistance on TRL exercises, establishing where and how to implement ERP technology. Exercises might examine KPIs, production bottlenecks, plant layout, scheduling and materials control but might also extend to logistics, data management, financial control and any number of supply chain factors.
On the other hand, if a thorough comparative assessment of alternative ERP solutions is required, it can be beneficial to use an independent consultancy. As well as cost of ownership they will look at vendor software, comparing the scope of application and functional fit according to the specified needs of the business. They will also check out the relative strengths and experience of ERP vendors in the client's own industry, the innovation and direction behind the ERP technologies and the support network that vendors engage with in staying ahead of the development curve.
Whichever route you take, an exercise that should never be ignored within a TRL approach is business benchmarking. An examination of your business performance against comparable processes in other leading organisations, if not already an ongoing activity, provides vital information to help identify the way to business improvement – even if enterprise software is not an issue. This exercise defines competitive benchmarking.
For large companies, internal benchmarking between sister organisations presents an obvious starting point for comparing KPIs.  In a further benchmarking subdivision, functional benchmarking compares similar business operations within an industry, not necessarily between companies in direct competition. Finally, operations that are very similar across industry in general can also be usefully compared, in generic benchmarking.
While competitive benchmarking, in particular, may seem challenging for a company undertaking a TRL exercise, external help is available. Many repositories for benchmarking studies and data are out there, in the shape of industry associations, institutes and business consultancies.
In closing, the key to all of this is gaining the most advantageous knowledge and understanding how to progress a business, implementing that knowledge. As demanding as it may be, moving a manufacturing organisation forward, through TRL assessment and benchmarking exercises, brings unquestionable rewards and in doing so you will be following in the footsteps of truly world-class companies.