Reading Time:
6
minutes
Many executives who dream of growing their companies at some time realize that spreadsheets and simple accounting packages won't work for the business anymore. The next step for their business software is an ERP (Enterprise Resource Planning) system. While an ERP solution delivers many benefits, executives need to be aware of the components, costs and other aspects required to operate and maintain an ERP application.
ERP addresses business processes
Although many companies believe they are unique, in fact there are many commonalities. Whatever type of business, there are common processes. This makes it possible for businesses to use the capabilities of an ERP system.
Michael Porter's Value Chain described the high-level activities that all organizations perform to create value for customers.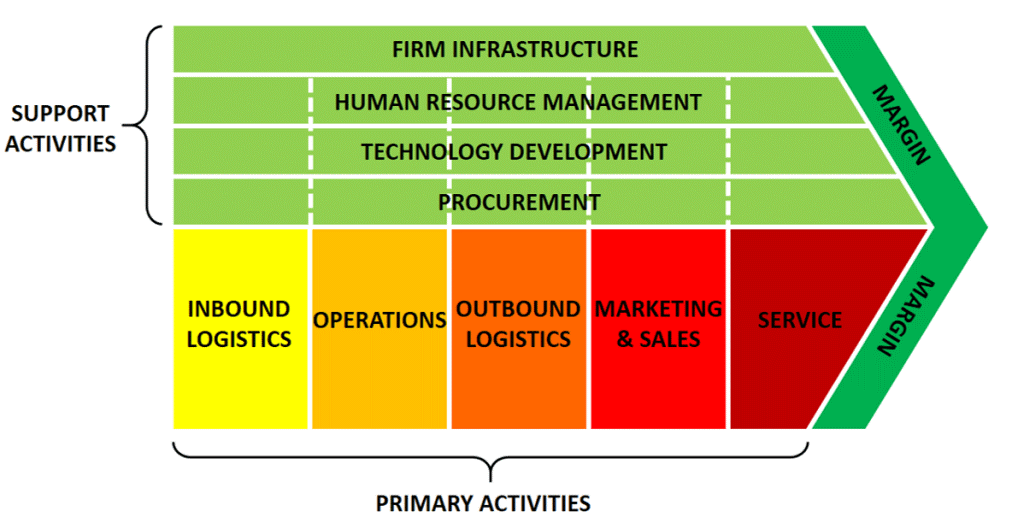 Porter's Value Chain (source: https://www.business-to-you.com/value-chain/)
The value chain model showed how processes in an organization inter-relate. Several standard high-level processes have been defined within the value chain framework.
| | |
| --- | --- |
| High-level process | Description |
| Order-to-cash | The order processing system, which includes processes involved in receiving and fulfilling customer orders |
| Procure-to-pay | The procurement process, from requisitioning materials through to payment |
| Manage materials | The process which ensures that the right materials are available at the right place, at the time, in the right quantity and quality, and at the right cost |
| Record-to-report | the process for capturing, validating and reporting on general ledger information |
Examples of high-level processes
The SCOR model defines six main processes across the business that are necessary to meet the primary objective of fulfilling customer orders — Plan, Source, Make, Deliver, Return and Enable.
Using these models, ERP applications have been designed and built to integrate these processes into a centralized system that connects all the different aspects of the business.
1. Hardware and infrastructure
Hardware and infrastructure is the platform on which the software operates and provides the interface for user interaction. The central feature of all ERP systems is a shared database that supports multiple functions, and that can be used by different departments, allowing them to work off of the same set of data.
Organizations that decide to have their ERP system operate in-house will need to have a number of computers connected over a local area network (LAN) with one as the server where the ERP software and database is installed. One of the primary hardware concerns facing many executives is acquiring the necessary state-of-the-art computer equipment for the ERP system.
The technical architecture defines the layers of deployment between servers and desktops, interfaces and software objects. It should be scalable and maintainable to meet future business needs.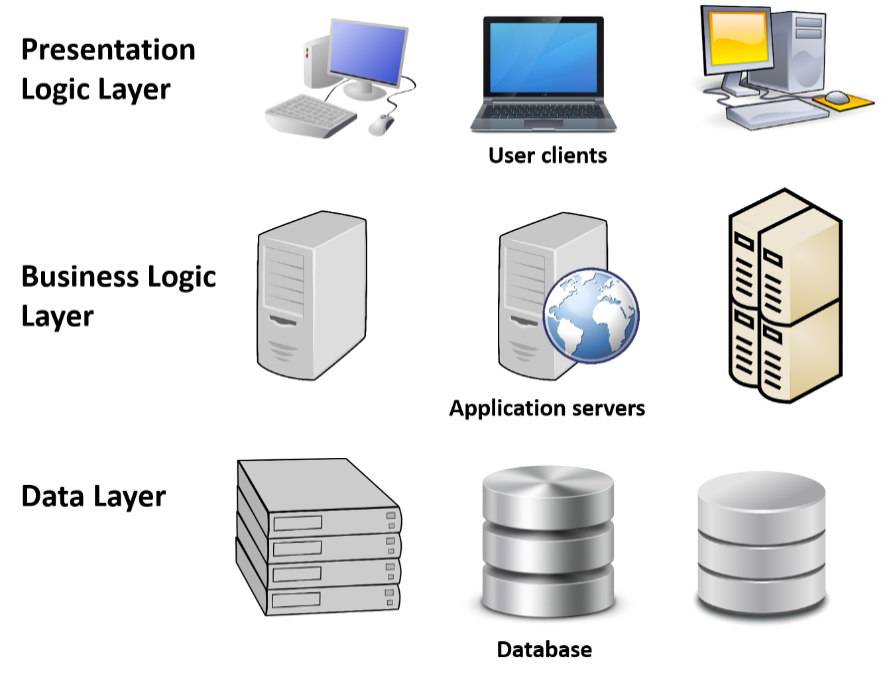 ERP physical architecture
2. Software
An ERP system runs on a software architecture. In 2019, 72% of businesses were using the Microsoft Windows Server operating system. For a business using Windows software, the ERP application runs within a software stack – software components that work together to support the ERP system. These software elements are usually priced separately, and all of them (and others) may be needed.
Users' Windows operating system and Microsoft Office
Microsoft .NET framework
Microsoft SQL Server
Windows Communication Foundation
Microsoft Windows Server
Example Microsoft software stack for ERP
3. On-premise or the cloud
Increasingly, businesses are opting not to implement their ERP system on-premise, but rather run it in a cloud environment. Instead of a business making capital expenditures for its own hardware and infrastructure, and installing and maintaining the software themselves, a cloud service provider (CSP) takes over that responsibility. The CSP then rents the infrastructure to the company. This has both cost and tax benefits for the company as it avoids a substantial capital outlay and the cloud service subscription is a deductible business expense. Companies going this route should check that their CSP is ISO 27017 compliant as an assurance of information security in a cloud-based environment.
4. Skills
A business starting off with its first ERP system is like someone buying a car for the first time. In other words, advice and guidance are needed from someone with knowledge and experience. Hiring an outside ERP consultant is essential if a project is going to progress and attain its objectives. While consultants tend to be expensive, they are contracted for the period of the project only.
Business employees will need to be skilled up to use the ERP system – whether they are functional users or IT staff. Without suitable staff training, the ERP application will not be used properly, and staff may miss out on all the functionalities that their ERP system has to offer.
5. Modeling processes
Whatever the size of the business, ERP projects are not simple. It is important to install and configure the software, so it works appropriately. A common problem is understanding what functionality is needed and then implementing it. With process modeling software integrated with the ERP system, a lot of guesswork is taken out of this stage and users, IT staff and consultants can get a good idea of what is required to implement according to business needs.
6. Data migration
This is an often, under-estimated cost item. It's the process of mapping data from old systems to the new ERP system, converting and migrating the data, and then validating the data is correct. This can be hard to estimate accurately unless there is comprehensive and up-to-date understanding of all existing data.
7. Integration
Not a single company has only one system that it depends on. Whatever the company does, there will be a line-of-business system (e.g., bar-code scanning) that will need to be integrated with the ERP system.
8. Fitting the business and the ERP system together
Often an ERP system does not fit all the processes and practices of the business. The decision then is whether the business changes its processes to conform to the software, or the software is customized (modified) to fit existing processes. Customization can add cost and complexity (sometimes significantly) to the project. A customization matrix can be used to assess the impact and cost.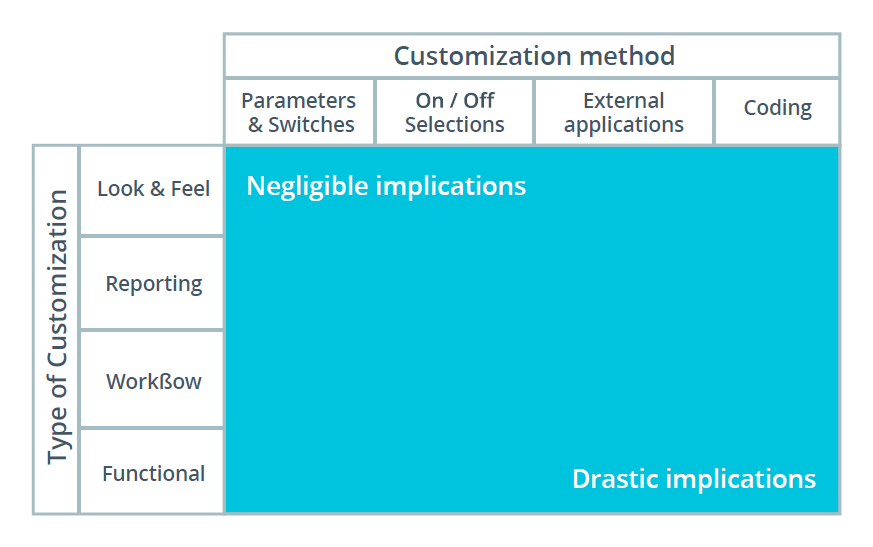 9. Cost of staff and management time
Staff and management involvement in an ERP project is mandatory for the project to succeed. Businesses should budget for resources to replace staff who are away from their usual activities and responsibilities while they work on the ERP project.
10. Cost of office and equipment
It is good practice for an organization to set aside some space for a project office, with perhaps additional staff and equipment to support it.
Then there are other issues which should not be neglected:
Change management
The major reason why some ERP projects fail is not due to the software but the 'wetware' – the people who have to work with the new system. That means from the outset, the people who will use the system must be involved and must support the project. This is not done with a few meetings but is an ongoing process of managing the changes brought about by the ERP system.
Scope creep
If the ERP project does not have careful management and oversight, it can easily get out of hand as unanticipated changes are introduced and the scope of the project grows. Scope creep can significantly increase project costs.
Report creation
Businesses rely on reports to track progress, check status, and monitor performance. While all ERP systems provide report templates, they still need to be customized for specific requirements and new ones created that are unique to the business.
IT Debt
When an ERP solution is implemented, there will be costs for bringing other parts of the software portfolio to a fully supported state. Slowing down or stopping investments in new technologies, like not paying off debt, may appear to be a good decision, but making these savings can lead to much larger costs as the business tries to keep up with the increasing demands of 21st-century technology. A decision to defer upgrades or maintenance on software can create greater risks, financial, technological, administrative and business process-oriented.
Application erosion
Like IT debt, when a business doesn't continually invest in maintaining the knowledge and skills of staff, the ERP system starts losing its value in the organization. The value of the application is eroded. Getting value from an ERP system is not a responsibility to be ignored. Once the ERP project is over, the business must budget for ongoing training to avoid the application erosion trap.
The value of an intuitive user interface
The cost of a poor user interface was shown when Zappos.com, the online shoe retailer, announced a US$1.6 million loss due to a pricing error caused by overly complex business software. Having an ERP system with a user interface that works the way the user expects it to, is critical.
Don't put off an ERP system
While it may look expensive and complex, not implementing an ERP system when it is needed will result in efficiency and productivity leaking out of the organization because the proper tools to run, monitor and manage the business are missing.
While there are risks, a 2019 study found that 67% of businesses rated their implementations as successful or very successful. An ERP system is a potential source of cost savings and operational improvements. If executives are aware of all the issues involved, an ERP project is likely to succeed and achieve its goals.
For an in-depth, non-technical guide to planning, selecting and implementing an ERP system, download The Executive Guide to ERP.