Reading Time:
5
minutes
In 2018 a Forbes magazine published an article entitled "Every company is a data company" in which the authors urged all companies to use data as a core asset. That is now becoming a reality as businesses come to realize that data is the most significant asset they possess. Using data has the potential to open up new business models, technologies, and an ecosystem where anything-as-a-service is possible. In manufacturing, the Internet of Things (IoT) is the technology that will allow companies to purposely instrument their equipment and products to collect data and then use it to improve, experiment and develop value.
There are two different terms that are sometimes used interchangeably – the Internet of Things and the Industrial Internet of Things (IIoT). While they are similar they are not the same.
What is IoT and IIoT?
IoT is a set of technologies that help to connect physical objects into networks so they can monitor their local environment, collect data, communicate with each other and with external factors such as other systems and humans. Exercise trackers like Fitbit or Garmin are part of an IoT network that collects and analyzes data from objects – people.
On the other hand, IIoT is the network of industrial devices, connected by communications technologies, that enables systems to monitor, collect, exchange and analyze data that can then help drive smarter, faster business decision-making. IIoT refers to the usage in areas such as manufacturing plants and supply chains.
Growth of IIoT
There are various forecasts for the future of IIoT – all predict significant, even exponential, growth in coming years. Here are some.
By 2025 there will be 30 – 64 billion devices worldwide
IoT has the potential to generate US$4 – 11 trillion in economic value by 2025
The IIoT market is predicted to reach US$124 billion by 2025, with the discrete manufacturing industry projected to spend $40 billion on platforms, systems, and services
In its Worldwide Internet of Things Spending Guide, the research firm IDC predicted a spending slowdown in 2020 due to the pandemic, but a return to double-digit growth in the mid and long-term.
IIoT use cases
There are various use cases where IIoT can deliver value.
Manufacturing efficiency
With sensors providing continual monitoring, companies can have real-time visibility of production operations to improve production capacity. Used with a Manufacturing Operations Management (MOM) system, manufacturers can digitize the factory to gain insights that will allow processes and workloads to be optimized.
Supply chain
Businesses can track shipments as they move along a supply chain. This improves delivery planning and can reassure customer about the location of items en route.
Predictive maintenance
A significant use case is in equipment maintenance, letting businesses move from a reactive mode to predictive and preventative. Instead of relying on manual, periodic maintenance, sensors embedded in plant floor equipment can give constant, detailed status data about individual machines allowing factory supervisors to pick up problems before failures occur and therefore preventing disruptions.
Quality control
By integrating sensors into the manufacturing workflow, quality-critical processes can be monitored by automated systems on a continuous basis. The sensors can identify when equipment and processes fall out of tolerance that affect manufacturing quality.
Safety
A difficulty with safety is that the reporting mechanisms are often siloed and manual. Using IIoT allows data sources from the various compliance systems to provide real-time monitoring so that managers get a full view of how workers are operating on the shop floor. This can help to detect possible dangers like temperature fluctuations, power loss, water intrusion, and other potentially damaging events.
Energy efficiency and cost-saving
Saving energy and saving money are two top business concerns. Billing data provided by the utility company is rarely sufficient to make decisions about energy usage. But with IIoT, equipment on the production floor can report energy consumption, allowing managers to monitor power consumption more carefully. This means that it's possible to get insights into new ways to save energy. It also offers the opportunity to change production schedules to better use energy-hungry equipment.
How to implement an IIoT project
While the opportunities and potential of IIoT have received attention, at the same time many organizations believe that there are challenges to getting value from IIoT-related data.
The first thing companies must appreciate with IIoT is that current IT architecture won't be able to handle the volume of data generated by IIoT devices and won't have the processing power required to transmit and process that data. The answer is to adopt an edge computing architecture. This is a distributed IT architecture in which data is processed as close to the originating source as possible, rather than in the data center. Gartner propose a three-part solution architecture.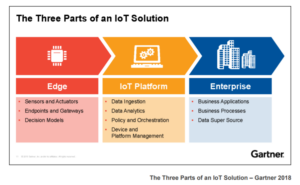 This solution architecture addresses the challenge of data integration that accompanies an IIoT implementation. This includes data in inconsistent formats and delivered at different times, and integrating various IIoT components with each other and back-end systems.
Another advantage of this architecture is that legacy systems and older IT facilities are not necessarily an impediment to IIoT-based digital transformation. IIoT value can come from improving existing sites rather than "greenfield" installations. Sensors and connectivity can be added to existing infrastructure to allow the collection of data that be used to provide business insights. At a later date, manufacturing plant can be augmented with new machinery.
Guidelines for the organization
IIoT is undeniably a revolution. But it brings challenges to the organization that are not just IT or technical issues. The key infrastructure prerequisites are Wi-Fi access and connectivity, and a solution architecture that can accommodate data requirements. With a modern ERP system, a company has the business solution that can capture the value of the data and use it to improve operations and processes, increase productivity and deliver better insights for decision-making.
There are other changes that are required for IIoT to enable an organization to unleash the power of data.
Clarify data accountabilities: this often means the creation of a new chief data officer, responsible for data management and governance, and aligning the company's data and information strategy with its overall business strategy.
Embed data fluency and literacy: this requires investing in programs to improve the data and analytics skills of staff across the business.
Move data curation into the business: the knowledge and proficiency to create and manipulate various data sets should expand beyond the IT department to enable organizations to move with speed and agility that is now required.
An improved data supply chain: the current approach to managing data tends to rely on subject-matter experts. This approach cannot scale to handle today's data volumes or adapt to the needs of a rapidly changing business landscape. A new approach is needed that uses artificial intelligence and machine learning to handle data management and governance.
(source: KPMG, Data as an Asset)
The value of IIoT
Value from IIoT data will only come from it being used. The Forbes article writers believed that many organizations collect data as a byproduct of their transactions rather than using it as a core product for differentiating value. If companies are going to succeed with IIoT products, data will have to be at the heart of company strategy. The more it is applied in the right applications, in the right circumstances, the more valuable and powerful it will become.